What type of harp is right for me?
Most beginning students start on the lever harps which come in different sizes for different needs. 34 strings tend to be a minimum requirement for practical use in the long term sense. For younger student of petite size, 27 string harps will be an ideal choice to begin with.
For lever harps, 36 strings is recognized as the standard size; their larger 38-40 string models enhance the instrument's potential and sonority. For pedal harps, their full size models have 47 strings. They also come in smaller sizes to accommodate beginner or young students.
As playing level advances and accordingly to one's musical interests, while some harpists enjoy staying with the lever harp, others view playing the pedal harp is the ultimate goal. Adult or taller young students may start on either lever or pedal harp. Majority of professional harpists perform on full size pedal harps.
What Should I Consider when Buying a Harp?
A good instrument is a good investment. You will be spending a lot of time with your harp, and the experience will be much more rewarding when with a quality instrument.
A good sounding instrument excites and intrigues the player to learn and thrive; a lower quality instrument tends to frustrate and discourage.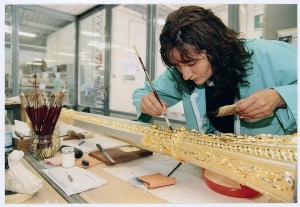 QUALITY & REPUTATION
Choose a harp made by an established maker who builds quality instruments from the finest materials that can stand the test of time and use.
Instruments made of higher quality wood are sturdier built, and richer in sound. Professional models are made of high-grade solid wood, while lower-priced / student models are made of lower-grade plywood.

SOUND & SIZE:
Look for a harp that has a rich full tone, good volume, evenness, clarity, and is responsive to your touch. It's important to choose an instrument that you are comfortable playing and which produces a sound that excites you.
Contrary to common sense, many adult students find a larger harp is easier to balance, and is actually more comfortable when shoulders are not shrugged to accommodate a harp that is too small for a grown-size.

APPEARANCE:
Both lever and pedal harps come in a variety of design, finishes, and woodworking style from which to choose according to one's favorites and preferences.
Lever harps usually have sleek and clean design, while pedal harps are certainly magnificent masterpieces with craftsmanship that you will adore for years to come!

SELECTION:
If you are new to the harp, our harp specialist at Harp.ca will be pleased to guide you to select and hear the subtle differences among harps. Come test-play our selection of harps in person to find the right harp that you'll love to play! Contact Us: